Here, at Bytex, we're all about the people, as you might already know. We're devoted to helping our teams succeed and our colleagues accomplish their professional goals. But none of this would be possible without our amazing HR team – the people responsible for everyone's happiness, the ones who go above and beyond to make things happen, whether it's about having fresh bagels at the office because the people demand it or looking out for people's career paths and making sure that internal mobility solutions are at their disposal. Or providing a way to empower them to achieve their potential, through teaching, taking on management roles or just paying it forward.
So we're thinking it's time for you to meet the team and get to know the real people behind the people here at Bytex. Here they are, in no particular order:

Gabriela Edu – HR Specialist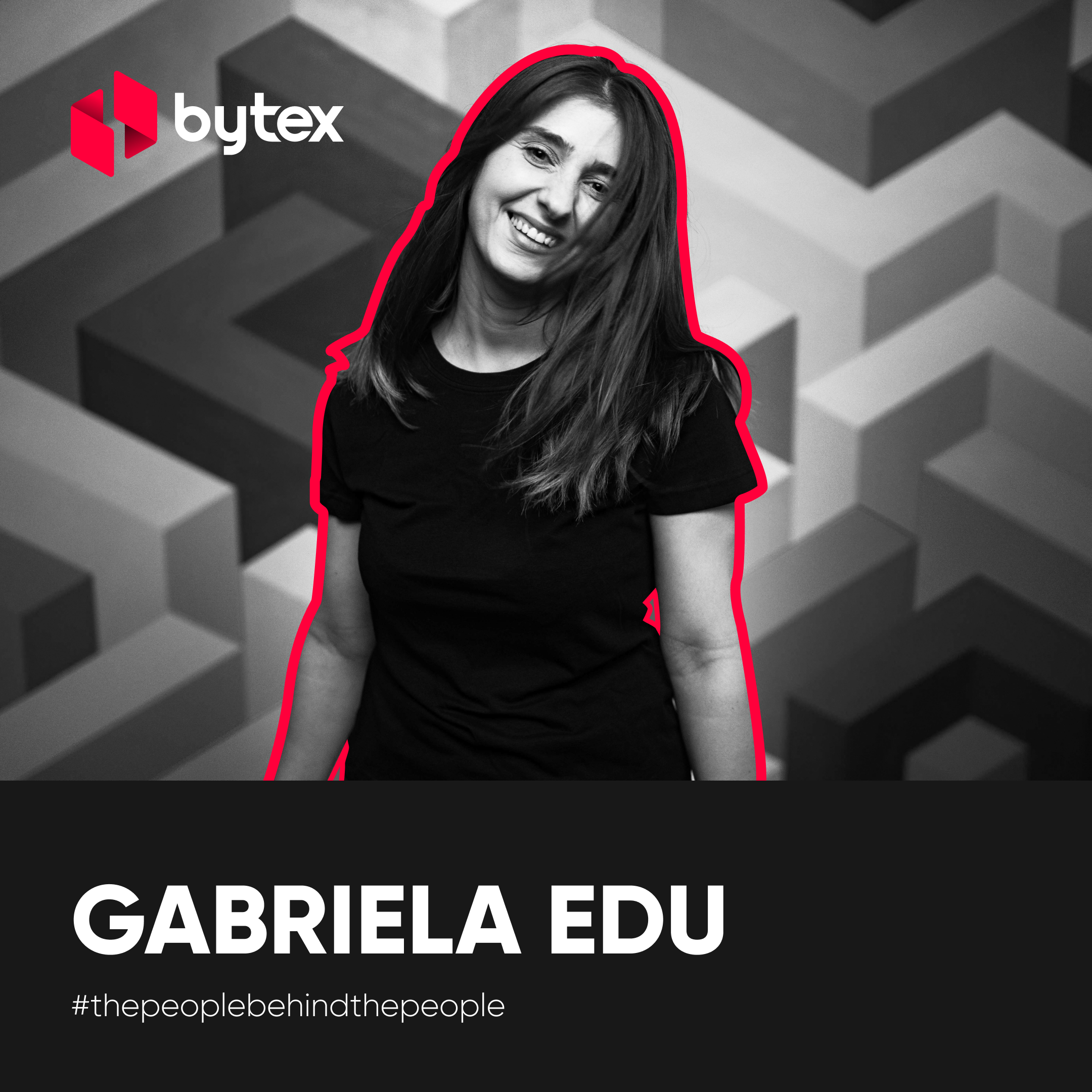 'I am Gabriela and I am part of the Bytex HR Team. My responsibilities are mainly in the recruiting area, where I am in contact with lots of great candidates, interviewing and keeping them informed about our opportunities. Also, I like doing other things HR-related and I am involved in areas such as performance reviews, exit interviews, and anything that can help the growth of our employees and the company.
Being an HR person involves being in constant contact with people and, even though I love it, being one of the reasons I choose this path, in my free time, I like going out in nature and enjoying time with myself. I also like discovering new places and the stories behind them.'
Dan Segall – HR Specialist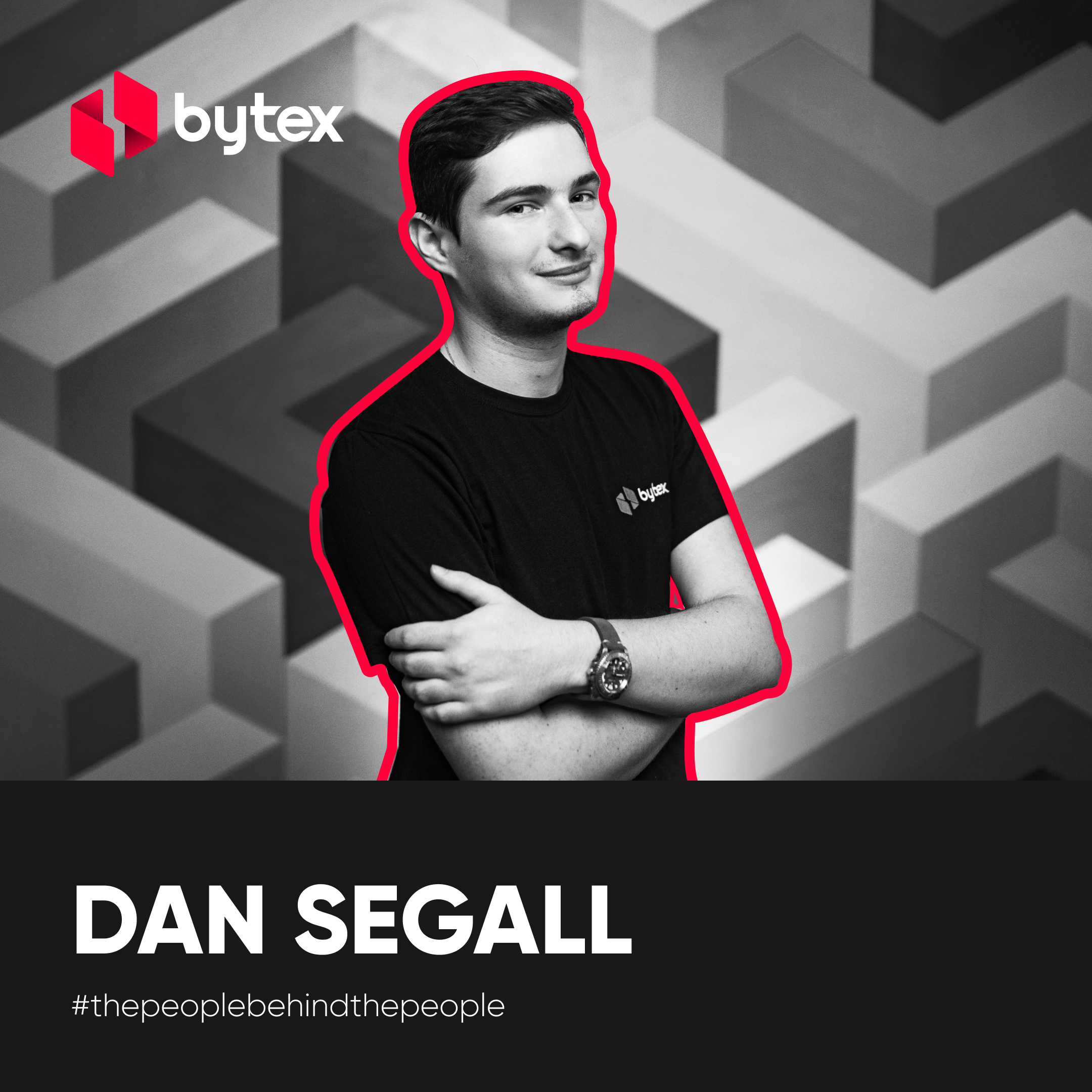 'Hello there! I'm Dan, a member of one of the most amazing teams here at Bytex. As part of the HR team, I am responsible for interviewing candidates, conducting periodic reviews for our other employees, carrying out exit interviews and helping out with pretty much anything I can. I really enjoy what I do, as it combines so many things I love: interacting with new people, using a computer for all kinds of tasks and having the opportunity to learn a ton of things constantly.
But, by far, the team I'm in is the most important aspect. We get to share insights, talk about many non-work-related topics and boost each other's morale by laughing it off whenever some bad news arrives. In my spare time I let my many passions take over: watches, cars, technology stuff, video games, workouts and others. If you'd like to know more about me and Bytex, don't hesitate to drop us a message; we'd be delighted to have a chat.'

Tetyana Schmid – HR Specialist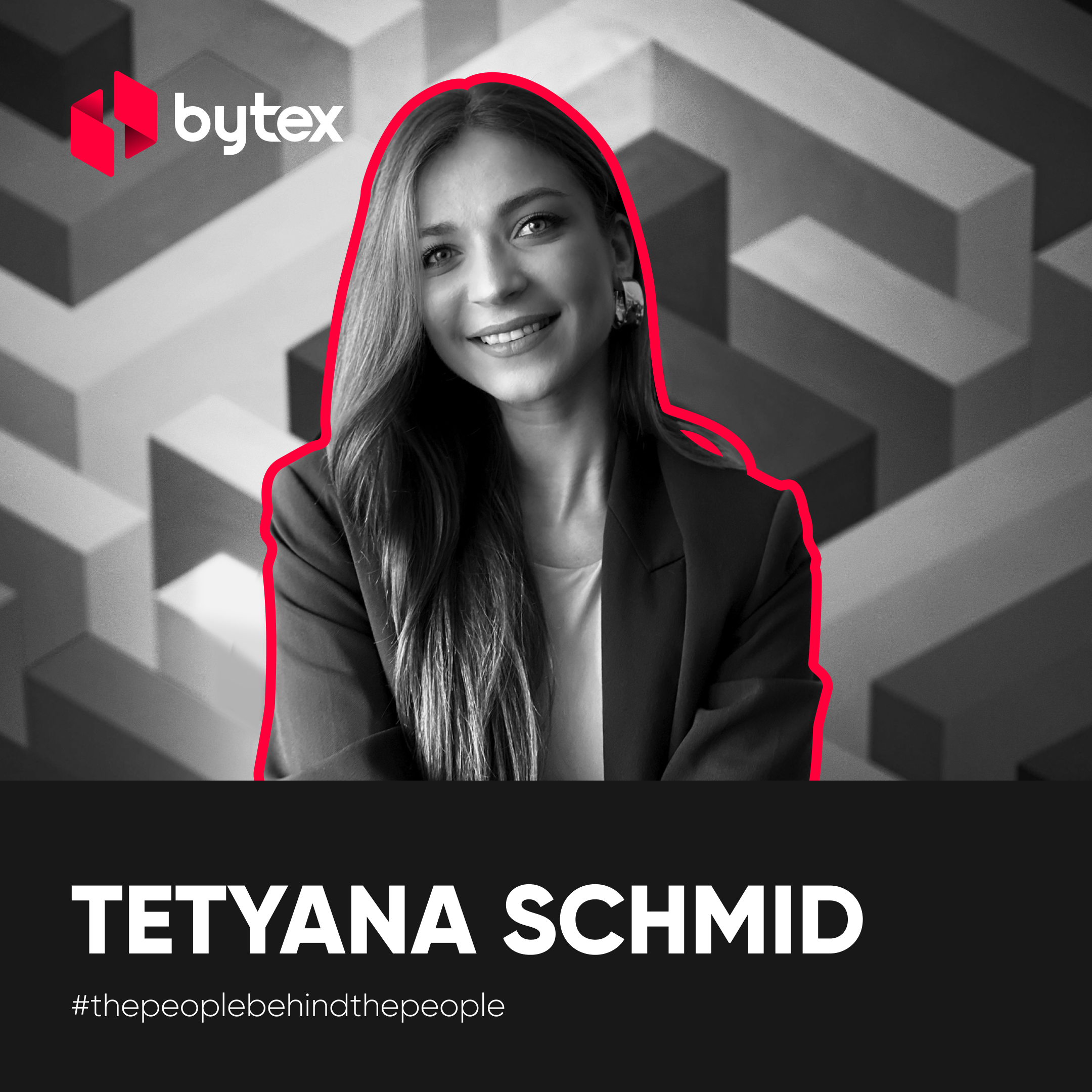 'As a psychology graduate I've always been passionate about people, their behavior, feelings and needs, communication, and relationships – particularly the elements, that are encompassed in the sphere of Human Resources. The role of HR Specialist gives me an opportunity to acknowledge an individual not from the perspective of their professional appropriateness, but in a view of the employees human qualities too. Every day I feel inspired by people, by listening to their stories, empathizing with them, learning through interaction with them, encouraging their goals, motivating them, and celebrating their success. I believe that people are the most valuable and the most important asset of every organization. That's what our Bytex team empowers and stands for!
Running the job as a passion of my life, when off duty, to make my mind free, I enjoy doing sports, watching movies, handcrafting and spending time with loved ones.'
Veronica Bălan – HR Manager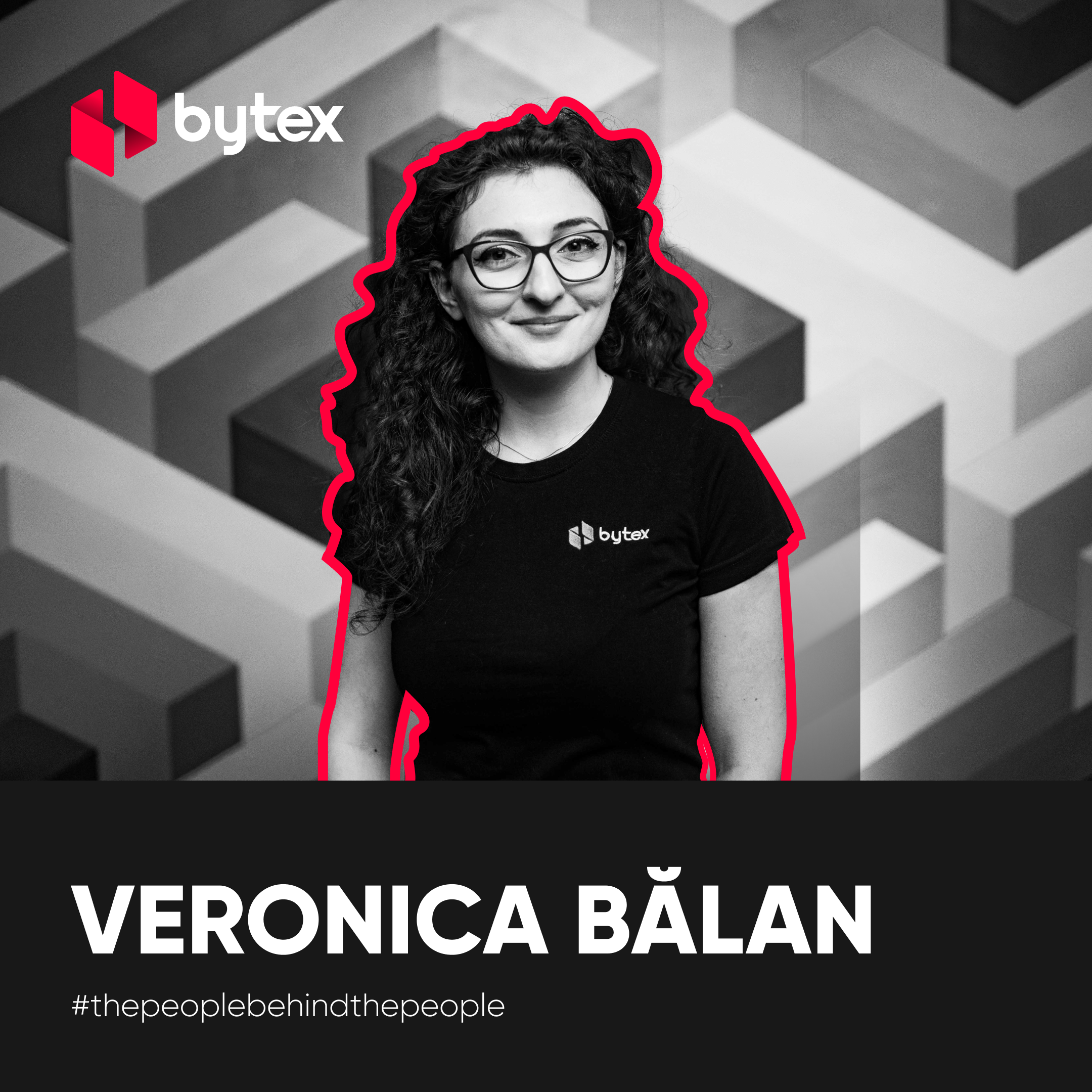 'As part of the HR team in Bytex for more than two and a half years now, I've seen the company progress from a startup with entirely informal culture to a mixed, a bit more organized one. I've also watched the team evolve continuously, both in terms of technical expertise and number, as we're more than 110 colleagues now.
I consider my job to be about people: everything from recruiting new colleagues that fit our culture and needs, to making sure the actual colleagues are happy and have all they need in order to succeed in their job. I'm a sincere person that believes in people and likes to see the best in them. This is how I've managed to learn A LOT from every person I interacted with.
One of my favourite activities is listening to people, hearing out what they need or feel and trying to adjust my communication skills in order to translate opinions and feedback from one to another.
I'm grateful for being an HR – this role has trained the best in me and I'm working daily to get even better. I learned to be calm when I wanted to yell as much as I could, to see the good in every challenging situation, and to be assimilating, no matter what happens. Great achievements need some inspiration and they have to be followed by hard work.
In my spare time I'm a nature lover. I grew up in a small town surrounded by mountains that offer spectacular views no matter the season. I like animals, all kinds of animals, but I especially admire horses. I find them to be gracious, noble creatures that can help in multiple ways. I'm also passionate about human behaviour from a psychological point of view and I have a degree in hypnosis.'

Adina Grigore – HR Specialist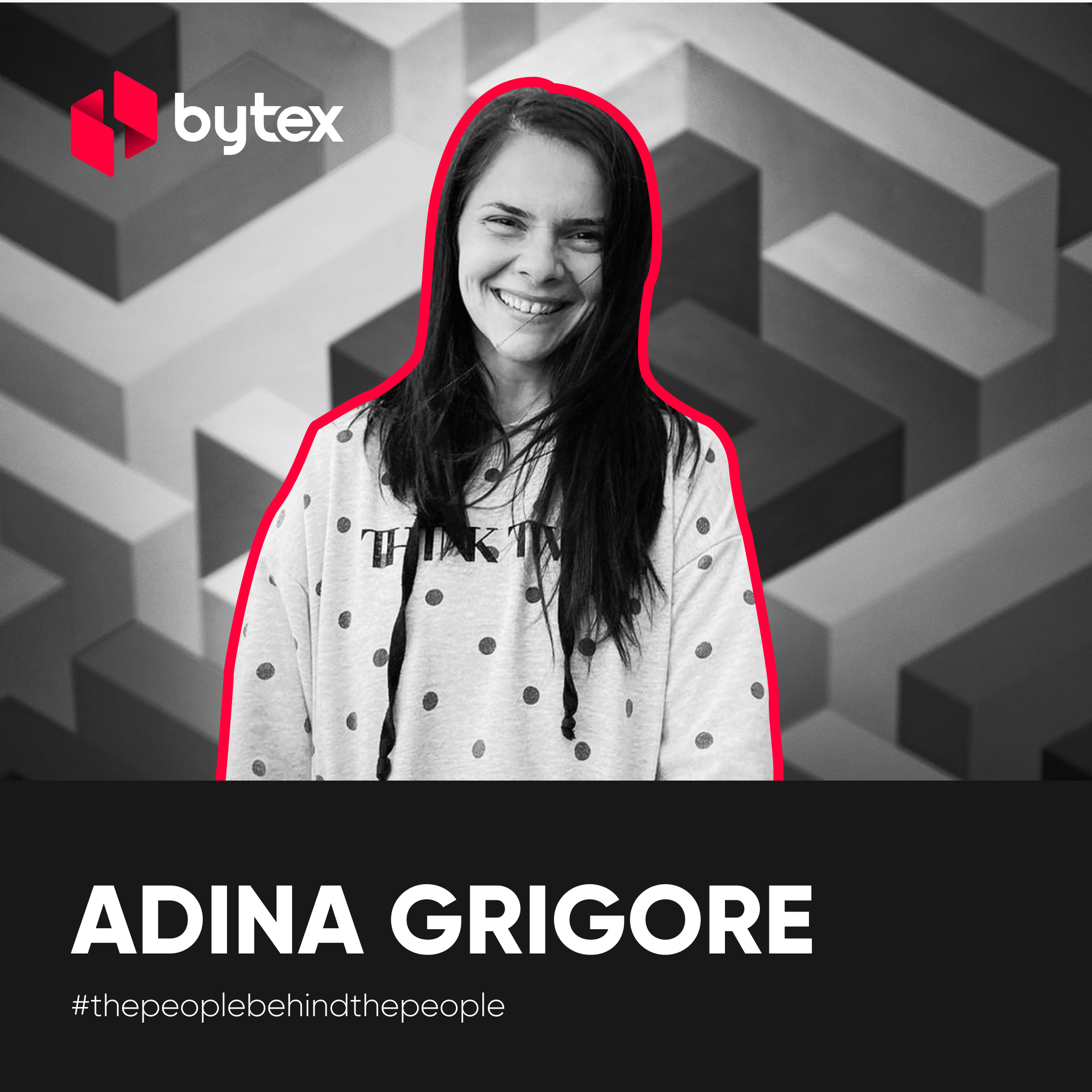 'Hi there! I'm Adina, I like people, and this is one of the reasons I am a recruiter.
I like talking to new people, finding out more about them, and learning from them. The fact that through my job, I can help others find a good place to work brings me great satisfaction. Not long ago, I joined the Bytex team, and I love it. Here I found people eager to help whenever I needed it.
In my free time, I love reading everything that feeds my imagination. When my body and mind feel stiff, I love doing yoga, and when I feel the need to disconnect from everything, hiking is the best thing. Let's connect and talk more about Bytex and all that has to offer. And yoga. And hiking. Why not?'
Instead of Conclusion
One of the things we like most about our people is how much they care not just within the working hours, but generally – they care about the environment, about people in need, about everything that might make things just a little bit better for us all.
Curious to meet them? We thought so! So reach out and let's get to know each other.