Bytex and Cisco go far back. This partnership, which significantly shaped our business trajectory, opened the doors to areas that were the rising stars of the global ITC industry, enabling us to build solid expertise in technologies pertaining to networking and the cloud. We're proud of what we achieved, and while we can't provide too many details about the exact nature of our work with Cisco, we would still like to offer a glimpse into what makes this collaboration special.
As a small company (we were less than 20 people back then), servicing someone as renowned and powerful as Cisco was intimidating. But we're not the ones to shy away from a challenge, so we did what any self-respecting start-up would do, and buckled up – we allocated our best developers to the project and channeled all our efforts into ensuring that we bring our absolute best to the table. The results speak for themselves, as we've been working with Cisco ever since.
While we currently work on several Cisco projects, the following will address our involvement with the Cisco Network Assurance Engine (CNAE), which optimizes how data center networks operate for increased productivity. Built on Cisco's patented network verification technology, CNAE is an engine that verifies networks for correctness, assuring operators that their network is constantly operating with intent.
Building and Managing a Dedicated Team for Cisco
We kickstarted the project with some fast and efficient resource allocation. Fortunately, we were already in talks with numerous skilled professionals that turned out to be just what the company was looking for. Availability was immediate, so we were able to quickly dive into the intricacies of the Network Assurance Engine.
Team growth was steady, seeing how we became responsible for some of the engine's core dimensions. Finding new-joiners was also quite easy, as our local developers quickly jumped at the opportunity of working with a company as renowned as Cisco.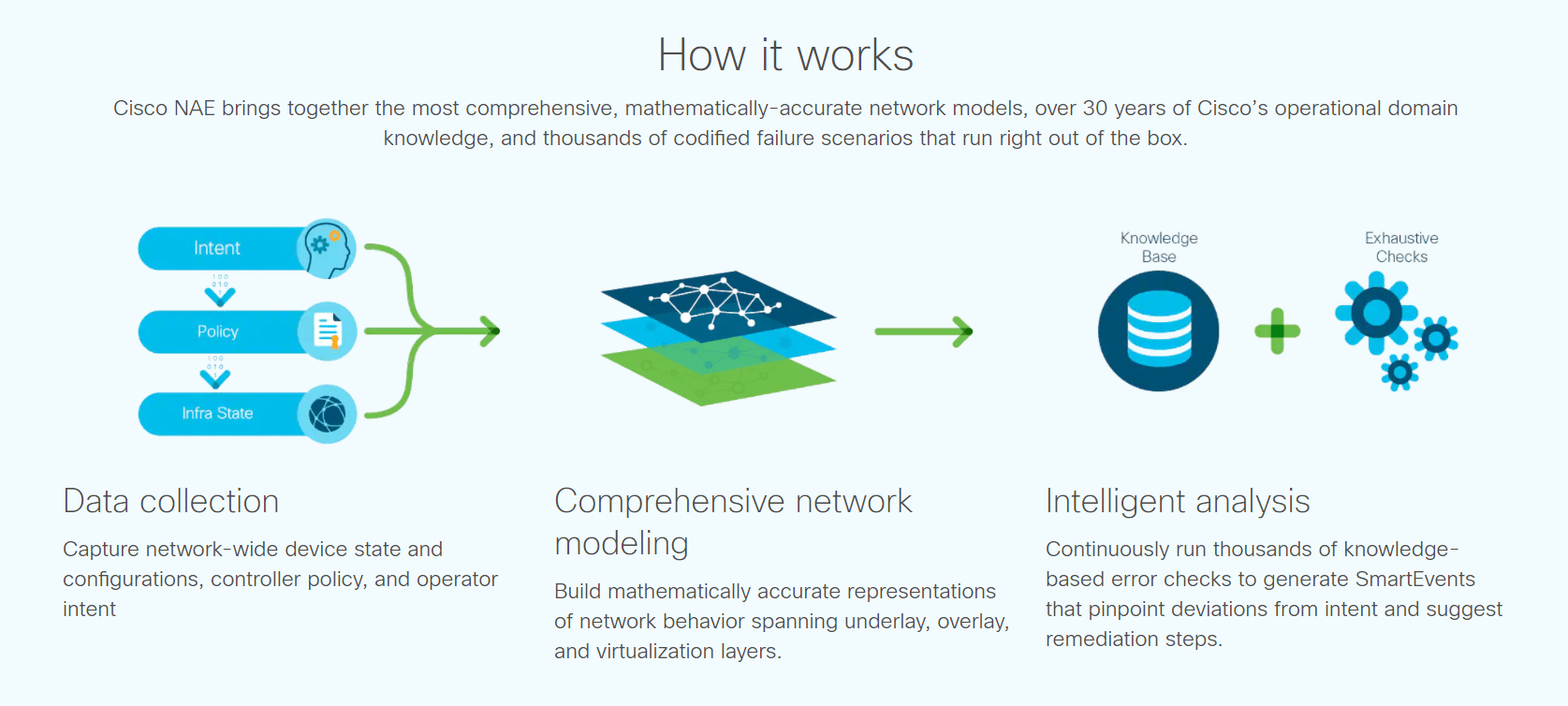 In terms of workflow management and processes, CNAE was the first project that taught us, as a company, how to tailor processes and protocols based on customer requirements – while Cisco was a well-established corporation, we were still a startup, so we had to juggle between compliant processes and easy to use tools, as to focus on the deliverables and not get caught in a net of overprocessing.
We opted for a light Agile framework, where we ensured transparency and efficient communication: we consistently provided status updates, were always available for quick replies (even outside of working hours), and tried our best to keep a flexible schedule in order to overcome timezone differences. In this sense, some of our engineers decided to change their daily schedules in order to ensure a proper overlap with the Cisco US team.
Lastly, cultural differences were never a problem, seeing how we made it a priority to periodically have our team visit Cisco at their US headquarters so as to ensure that there was always a mutual understanding of project values and objectives.
Services and Challenges
In terms of challenges, there were a few crucial moments that defined our collaborations with Cisco.
Our QA team had to migrate from manual to automated testing, in order to comply with the emerging QA trend of the States. We implemented the shift gradually, and provided numerous training sessions for our engineers. The results were more than satisfactory.
Technologically, we were faced with the necessity of migrating to a new code base in order to ensure that Cisco technical requirements were met. In this sense, we allocated a dedicated team of our best engineers which facilitated the transition. An interesting fact about the collaboration is that we had colleagues who left Bytex in order to pursue other opportunities, but decided to come back simply because they missed working on the CNAE project.
Last, but not least, we had the privilege of working in mixed teams, a concept which was new to us but proved to be incredibly beneficial, as it helps everyone understand what their peers are working on and how they address internal challenges. Interestingly, it even facilitated some "swaps" within the project, as we had engineers who transitioned from UI to QA and from QA to DevOps.
Where We Are Now
Our partnership on the CNAE is still going strong, with numerous Bytex engineers involved in releases, demos and consultancy sessions. The trust is solid and goes both ways, with our current efforts deeply valued by the team at Cisco. We trust that the future will bring forth additional collaboration opportunities, and we are very proud to play our part in the development of such disruptive networking technologies.
Interested in reading more of our success stories? Make sure to have a look at our Software Engineering Partnership with the MIT and Cisco Webex case studies!